Tag: giantess hentai
by J Yubari on Apr.28, 2014, under Comics, Members Updates
Can you imagine having complete power over someone? Someone tiny and defenceless, unable to contradict your will? What would you do with such power? Would you abuse it, and make your victims suffer for your amusement, or would you care for them and protect them from others who would hurt them?
Sub Human Resources has one possible answer!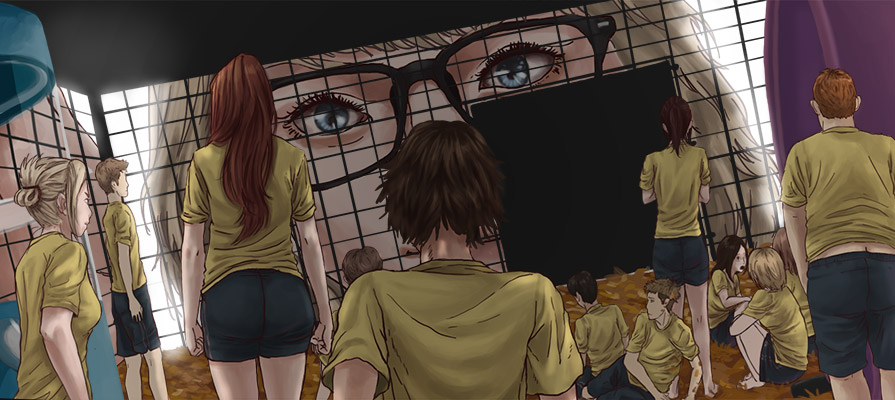 Written by Jordan Macrophile, Artwork by: Jieun Studio
Synopsis: At the height of the Swinging Sixties a pandemic swept the globe over the course of a year claimed the height of half of the world's population. Seemingly linked along genetic lines to affect entire families but otherwise random, 1.5 billion people found themselves facing the rest of their lives at just six inches tall. In Britain, welfare spending on the underclass spiralled to unsustainable levels with social unrest peaking when Mary Porter, a young librarian, was imprisoned for three years for the manslaughter of a man she had accidentally stepped on in the street. Twenty years ago Mary's Law was passed, decriminalising all acts against the underclass and establishing a process to register the smaller humans as property to alleviate the burden on the state. In the present day, the first humans bred entirely in captivity are reaching adulthood and entering the market.
Cover & comic art:
Pages: 15 + cover
Tags:  shrunken man, shrunken woman, handheld,humiliation, breast play, hand crush, heel crush
Series link: Sub-Human Resources
Download this comic and every other in our catalog with a single 1-month membership to GiantessFan.com
AND DON'T FORGET: Giantessfan.com now accepts Bitcoin and sports a brand new "favourites" feature!
Leave a Comment
:giantess comics, giantess hentai, gts comics, shrunken man, shrunken woman
more...
by sandra on Oct.15, 2009, under Comics
There is not a better site for GTS comics than the Giantess Club. I am so happy that there is finally a site with some professional content (although I LOVE user content). Sometimes it's just nice to see something that has been done with the utmost consideration regarding the storyline, dialogue, and art work. Their latest comic, Demolitionist, has surpassed all my expectations of what an awesome giantess comic should contain – growth process, nudity, destruction and some crushing.
Leave a Comment
:giantess club, giantess comics, giantess hentai, giantessclub, giantessclub.com
more...